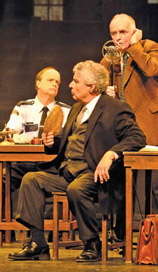 Hamilton's lawyers have come together as a community to launch a permanent endowment fund to benefit local children. Long known for their individual support of a myriad of causes with their resources and time, Hamilton's lawyers have chosen to work collectively to build a fund that will have an impact in perpetuity.
"We want this fund to be here to help Hamilton's children forever," says Justice Ray Harris, who was the driving force behind efforts to create the fund. "An endowed fund at Hamilton Community Foundation is the perfect way to ensure that."
The Lawyers' Legacy for Children is intended to help Hamilton children develop in the spirit of community and generosity that has characterized the contributions of Hamilton's lawyers. The first grant made was to support autistic children in Hamilton.
The Hamilton Lawyers' Club agreed to collaborate with HCF to establish the fund and developed the process by which regular grants will be recommended in the future.
The fund's founding contribution came from the proceeds of the 2006 stage production, 'Inherit the Wind', which Justice Harris co-directed with former Theatre Aquarius artistic director Max Reimer. Local lawyers and judges played all the roles, to the delight of Hamilton audiences.
This unique theatre genre – the Lawyers' Show – originated in Hamilton in 1983 when the Lawyers' Club produced '12 Angry Men' (also directed by Justice Harris). It has since been widely emulated in support of many worthy causes in communities across Canada and the U.S.
Hamilton's lawyers and judges have made substantial contributions to augment the fund and are planning another Lawyers' Show and other fundraising initiatives to build the endowment.
"Thanks to the generosity of Hamilton's lawyers, this fund will endure for centuries," says Justice Harris. "It will have a lasting impact that reflects our legal community's commitment to the community at large and will always be there to help the children."
Excerpt from 2008-2009 Annual Report
A legacy that continues
Since 2008, 18 grants have been awarded from the Lawyers Legacy Fund supporting important initiatives throughout the community.  The fund continues to grow with the fund capital reaching over $447,000 – truly a legacy that will have impact forever.