Women 4 Change
Please see the Women 4 Change commissioned research: The Impact of COVID-19 on Women in Hamilton here.
Donate or renew your Women 4 Change contribution here.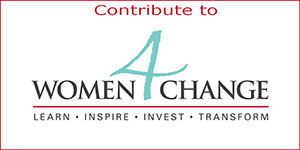 Check out the most recent research paper that W4C commissioned which provides a current review of gender-specific issues faced by women and girls in Hamilton at all stages in life.
What is Women 4 Change?
Women 4 Change was established in 2012 by a group of local women who came together with HCF in a mission to inspire and enable the women of Hamilton to become leaders in philanthropy, while improving the lives of women and girls in our community through collective giving.
The founders of Women 4 Change envisioned an initiative where contributors would work collaboratively to achieve transformational change. They established a field of interest fund at Hamilton Community Foundation, to which each person contributes annually, as the vehicle through which annual grants to local organizations will be made. Throughout the year a number of educational and social opportunities are provided to enable contributors to learn about philanthropy and the issues they care about. They have established guiding principles to ensure the Women 4 Change initiative grows and develops in a meaningful and informed way.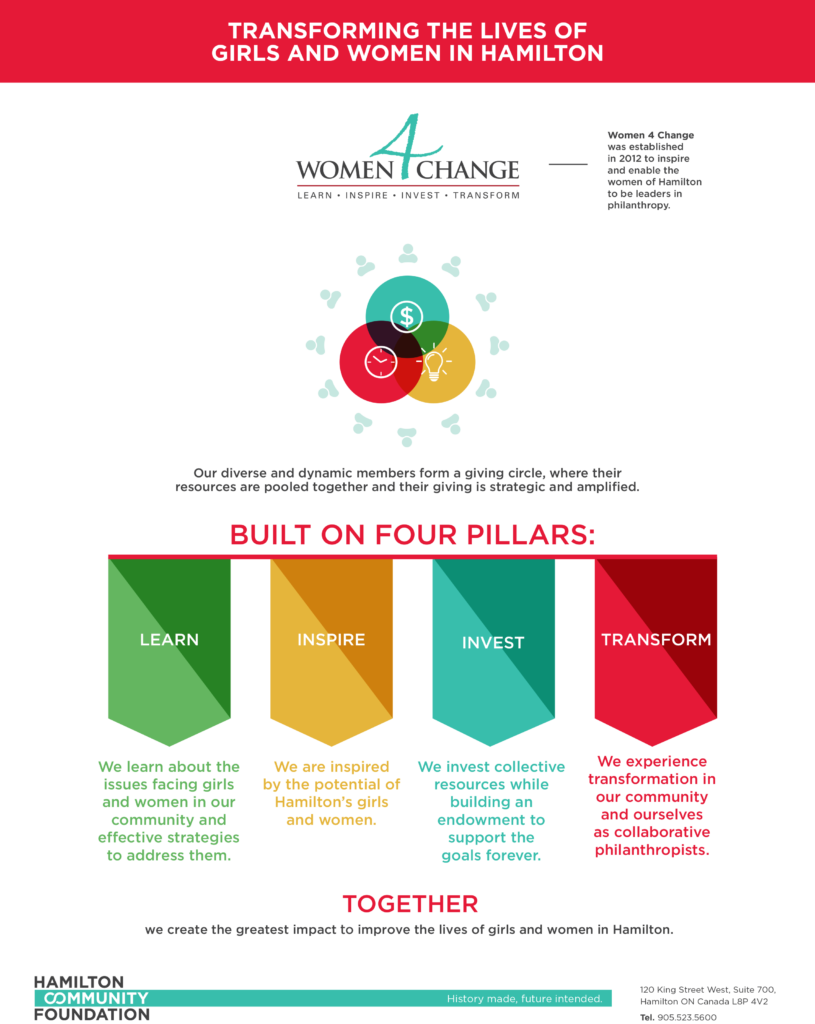 How will we make a difference?
Women 4 Change's dual focus on philanthropic leadership among Hamilton's women, and improving the lives of women and girls in this community, is central to how grants are made and how the contributors are engaged throughout the year. By joining together in these efforts we can create greater impact and work toward our goal of making a difference.
Early research undertaken by Women 4 Change shows that there are women and girls in this community in desperate need of additional supports to thrive. From this research we have included some notable facts below:
16% of people in families in Hamilton whose major income earner was a female lived in low income compared to only 5.1% of persons in households where the major income earner was a male
Older women are more than twice as likely to be living in poverty (22%) as older men (10%)
Women are underrepresented among Hamilton's elected officials, at the highest levels of local public sector institutions as well as in the private sector.
Read the full research paper to learn more. The Social Planning and Research Council of Hamilton produced the 2010 Women in Poverty report, that may also be of interest along with this report from the Girls Action Foundation. Subsequent studies commissioned by W4C have focused on Women's Philanthropy and STEM:  Challenges and Opportunities.
Building on this knowledge, early W4C grants have focused on programs that focus on middle school-aged girls, are built on research, have measurable outcomes and aim to:
Foster independence and self-confidence
Remove barriers to success
Promote positive relationships
Read more about the first grant or watch the Girls ONLY video
To date, 27 grants totaling just under $273,000 have been awarded. These have provided the following support:
Hamilton Council on Aging, Senior Learning Series
Industry Education Council, Computer/Coding Workshop for Mature Women
Shalem Mental Health Network, Creating Community One Senior at a Time
Social Research Planning Council, Legal Holistic Pilot Program
Industry Education Council of Hamilton, Coding Boot Camp for Women
YWCA, Good Beginnings Program & Bones Plus
Hamilton East Kiwanis Boys' and Girls' Club to support a mix of girls-only programs
Queen Victoria School, Girls Only Program andGirls Only Camp and McMaster Trip
Liberty for Youth, Bright Choices for Girls Program
Joseph Immigrant Women's Centre, Back to School Moms
Fit Active Beautiful (FAB) Foundation, Expansion of Riverdale Site
Hamilton-Wentworth District School Board Foundation, Girls Only Program
How can I get involved?
Supporters of Women 4 Change are asked to make an annual donation of $1,500 ($500 for contributors 40 and under). Donations are split to provide:
$1,000 for granting in the current year
$350 to build an endowment fund
$150 to cover administration of the giving circle
Grants will be made to organizations whose goals match those of the Women 4 Change fund at Hamilton Community Foundation. There will be an annual program of education and other events that all contributors will be invited to attend. The first will be an educational event addressing topics related to improving the lives of women and girls in Hamilton. The second event will share the stories of the organizations and people who are benefiting from the grants. Additional opportunities for involvement may be presented to contributors from time to time as appropriate.
Here's what some of our current contributors are saying about Women 4 Change:
"The opportunity to create multiple pathways for giving/engaging that inspire women across educational backgrounds, experiences, ages and cultures to share their gifts in ways that are creative, thoughtful and supported by research"
"I am excited to see young women thrive and improve their lives with the support and interest of other women (of any age)"
"To realize I have the ability to help others … to learn that there are many other women who are devoted to philanthropy.  Together we will make a difference"
To learn more please contact Shylah MacIntyre at Hamilton Community Foundation or call 905.523.5600.